---
Updated June 25, 2007
See the cute page by Jennifer
Pug dogs and funny videos
OTIS AND ALLIE
http://otisallie.blogspot.com/
---
UPDATED On April 17, 2007
My friend Laura was going to pick up her friend when she noticed her dog was looking at her
with pleading eyes over the top of the gate. She decided to take him with tho he was now a full grown dog and the last time she had taken him in the car he had been a small pup.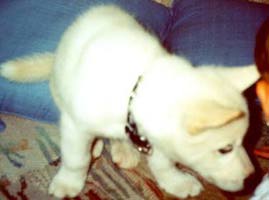 "Bandicout as a Puppy"
She was driving down the freeway with the dog sitting nicely in the passenger seat...she decided to put her window down a little so the dog wouldn't get too warm...She doesn't know if it was the noise of the window buzzing down that spooked him or what...but suddenly she had a hundred pound shaking husky on her lap...she barely got control of the wheel...she couldn't move him...could barely see over him and now was steering in heavy traffic with one hand ......the dog had his face plastered against the window and people were staring as it looked like he was driving the car. Somehow she was able to pull over to the shoulder and stop...With superhuman effort...she only weighs 105...she pushed her dog back onto the passenger seat....she then threatened him with is life if he ever did that again...and drove to her friends house...She had her friend hold him by the collar in the back seat so it wouldn't happen to her again....I have a feeling that "Bandicout "won't be going for anymore car rides.
---
Hi...My Name is OLE and I belong to Cindy. I am still a baby and I sleep under the bed, but I am potty trained to a special paper. I have lots of toys and lots of stuffed doggies that I pretend are my Mommy and brothers and sisters. Cindy loves me soooo much and I cry until she lets me on the bed, then I lick her ear and then I bite it. Then she hollers at me and I lick it again and then I bite it. I don't know why I do it, but I just want to. It feels good on my teeth. It tastes like perfume. I bark at her when she hollors aat me as I am sassy as I have terrier in me. Well, here is my pictures. I know, I am very very cute. Thanks tho.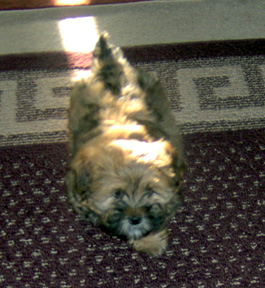 "OLE'
---
...
Beaver.... the Best Dog in the World!
He was friendly but also a great watch dog.
Loved Children. He could say "MaMa"
and loved retreiving things from the lake.
Baby Beaver and Bigger Beaver
When he was full grown, he
couldn't fit into the chair.
He has been gone for many years now, but he will never be forgotten.
---
Here are some cute stories I picked up in the Doggie chat room....
---too cute--
Poohgang66: I have a story ...my husband cant get near me when I sleep... the police dogs wont let him.
He has to throw something so they run after it and he gets in bed really quick.
NewfysMom: ...KEST...when I yell at Newf, she hides in the bathtub
I just pray the glass shower doors are OPEN!
---
NewfysMom: KEST, had Newfy in my 61 Falcon... she was trying to catch the windshield wipers
she was soooo sure the glass wasn't there! I.nearly hit a pole I was laughing so hard! I also have a JRT... right? ... wel...the JRT, SPIKE (Jack Russell) is about 25 pounds and Newfy is 130... Spike runs Newfy ragged, so Newfy decided that sitting on Spike was the
Best way to keep her down!.... but then I have to go move the Newf of the poor JRT!
KEST, they keep me young!
---
DHAMILDOGG: I have to make sure I leave a liitle food on my plate for the pup when I finish dinner
HopesHrt: ...Kest ...when my kids play this little flute toy they have... my Shih's sing with them....
This is about my black Lab named "Beaver"....I taught him to say Momma and he said it very clearly...especially when he wanted something...One day I took him to the vet and there were several people in the waiting room with their dogs....he wanted to go investigate them as he seldom saw a dog and was very excited to see some...I held on to his leash so he couldn't go and he kept looking at me and then at the dogs...begging....by saying Momma...Momma...Momma...Everyone was laughing so hard that the vet came out to see what was going on...It was funny but embarrassing...LOL
---
Say Hello to Petie....Petie is all grown up now...but when he was a puppy he knew he wasn't supposed to bite fingers...so he very carefully would put his toy next to your hand as you were watching TV...He would nibble on the toy and then very accidentally move his teeth over ...ever so slightly in order to get your fingers...He played his little trick as often as he could get by with it...and his teeth were very sharp...He is soooo cute tho...You have to love him.
"Petie"
Petie all grown up in his Pool...Summer 1999
---
He he ...Dogs learn SOME words really fast!
---
Say Hi to SmrtDog
Smrtdog, that's her stage name, but she's Bucky at home. If you expect proper spelling from a Springer Spaniel, you're expectations are a bit too high. She's 10 years old, about, from the Bergen Co. shelter in Teterboro, NJ. She's been in our pack for 9 years, as of January.
She accepts email at Smrtdog@aol.com.
Notice: no leash! But don't tell the police. She's very well behaved.
Smrtdog is very smart, and she really gets around!
Here she is ...ready for her walk...LOL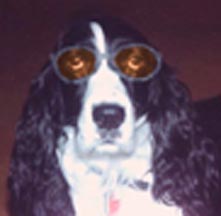 SmrtDog
---
TYSON
HI... MY NAME IS TYSON I AM A 9 MONTH OLD POMERANIAN I LOVE TO CHEW SHOES AND I HAVE A SPECIAL ADDICTION.... I AM HOOKED ON SPRING WATER. I DRIVE MY MOM CRAZY TILL SHE SHARES WITH ME AND WHEN THE BOTTLE IS EMPTY I TURN INTO A ST BERNARD AND CARRY IT AROUND...I ALSO LOVE TO PLAY FETCH WITH THEM.... MOM OWNER FREEZES THEM WITH WATER IN THEM AND I USE THEM TO TEETH ON IT REALLY MAKES MY MOUTH FEEL BETTER ..........
---
Sasha and Josie
Sasha is smiling....Josie is chewing a stick.
---
See this link for a wonderful way to stop bleeding
if accidentally cut while trimming Doggie nails:
---
---
Things You Can Learn From A Dog:
Harmony, Simplicity, Openness, Honesty.
Allow the experience of fresh air and the wind in your face to be pure ecstasy.
When loved ones come home, always run to greet them.
When it's in your best interest, practice obedience.
Let others know when they've invaded your territory.
Take naps and stretch before rising.
Run, romp and play daily.
Eat with gusto and enthusiasm.
Be loyal.
Never pretend to be something you're not.
If what you want lies buried, dig until you find it.
When someone is having a bad day, be silent, sit close by and nuzzle them gently.
Thrive on attention and let people touch you.
Avoid biting when a simple growl will do.
On hot days, drink lots of water and lay under a shady tree.
When you're happy, dance around and wag your entire body.
No matter how often you're scolded, don't buy into the guilt thing and pout...Run right back and make friends.
Bond with your pace.
Delight in the simple joy of a long walk.
Author Unknown
See my page on Dog tips!
http://kesti16.com/kesti16/DogPlus.HTM
---
To return to index...click l
ink below...Thanks...Kes
---
To return to my second site Click link above.
---
UPDATED On March 22, 2007
UPDATED On October 16, 2007
Check out my Popcorn Flour Recipes
plus easily revise your recipes to low calorie and eat healthy for life!
http://kesti16.com/Tressba/EatsAndTreats.html
Attention!
I have had over ONE MILLION visitors to this, My AOL Site in the last nine years.
The counter kept reverting back to zero, but I kept my own records each week.
I have now attached my two sites together under one counter starting at 2000.
This is March 15, 2007.
I hope I will not have any more trouble with counters. Sincerely, Kesti