UPDATED On March 21, 2007
Disclaimer: All information on this page has been gathered from articles..books.... or testimonials of others. I am not personally recommending use of any of the ideas presented here...It is for your information only. Information contained here may be subject to debate. Accuracy cannot be guaranteed. Kesti16 assumes no responsibility for how information presented is used by the public.
---
CELL THERAPY HELPS
Click on cat to go to page to read about it.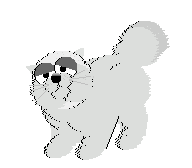 ---
With Perimenopause..you often get PMS symptoms...and you will feel pretty awful during this transitional time.
The book recommends diet of low fat high fiber vegetarian based diet with whole grains legumes raw seeds and nuts fruits and vegetables making up the core of the diet.
Avoid salt..sugar..dairy alcohol and caffeine of all kinds. (in any products)
Recommends Vit Bcomplex..especially B6 vit E vit C and biflavinoids...magnesium..evening primrose oil and borage oil.
C and biflavinoids reduce heavy bleeding.
biflavinoids are available in supplements but are also are plentiful in soy products...buckwheat ..grapeskins and cherry skins...and the inner part and pulp of citrus fruits. They are also weakly estrogens and balance out the estrogen levels when needed. Asian and African cultures seldom have breast cancer or menopausal problems because of their high intake of these biflavinoids.
---
Natural Hormone Therapy: Recommends the natural supplementation of natural progesterone for Perimenopause symptoms like water retention...loss of libido..weight gain...moodiness...and irritability..depression as well as fibrocystic breasts breast cancer or endometrial cancer.
---
SOAKING FEET IN SAGE WATER WILL STOP HOT FLASHES!
---
Chastberry is recommended...1/2 tsp of it and 1/2 tsp each of st johns wort for depression..motherwort for palpitations...and hot flashes and skullcap for anxiety.
---
Eating onions will help create bone density so needed in Women after menopause.
---
Homeopathy..pulsatilla is suggested for women who are weepy and has changeable moods.
---
When hot flashes extend all the way to the hands and soles of the feet...Sulpher is recommended.
---
Bryonia can help with drying and thinning vagina.
---
Apply vitamin E directly on dry vagina.
---
Fresh celery juice is good for the hot flashes.
---
Normalize hormones and build bones.
Make a tincture of two parts chasteberry
one part black cohosh one part horsetail one part oats and one part alfalfa...
Take one teaspooon three times a day. To use as a dried herb...infuse two teaspooons to a cup of water and drink the mixture three times a day.
---
Calcium and PMS
Doctors have given women yet another reason to
get plenty of calcium - it helps relieve the symptoms of premenstrual
syndrome, or PMS. A report published Wednesday in the American
Journal of Obstetrics and Gynecology says women who take calcium
supplements report a 50% decrease in their symptoms. Researchers
surveyed 720 women between the ages of 18 and 45. They picked out 466
who said they had moderate to severe premenstrual symptoms on
regular basis. Half were given 1,200 milligrams of calcium per day
and half were given a dummy pill. Three months later, women who took
the calcium supplements reported a 48% drop in overall PMS symptoms.
(Don't take Tums or other forms of calcium carbonate, as we can't
metabolize it; go for a good chelated brand with magnesium.)
---
Don't forget about this if you are feeling awful.
Toxic Shock syndrome
http://www.io.com/~wwwomen/menstruation/tss.html
---
The book Alternative Medicine gives a lot of good advice on Menopause...Plus every other problem the body could have...It is the best investment for your future health..the best of its kind...Sam's club has it in the Soft cover...(HUGE BOOK) for $39.00 The hardcover is $60.00 "Alternative Medicine" the Definitive Glide..compiled by the Burton Goldberg Group
---
Soy products may help decrease menopause symptoms.
---
Dong Quai, Black Cohosh and Pro-gest for menopausal symptoms.
---
New Update!!!
Soy is Bad!
(click below to read about it)
http://members.nbci.com/kesti16/Soy2.HTM
---
Click the link below for more good advice on Menopause.
TO RETURN TO INDEX PAGE
CLICK ON LINK BELOW
---
To return to my second site Click link above.
---
UPDATED On March 21, 2007
Check out my Popcorn Flour Recipes
plus easily revise your recipes to low calorie and eat healthy for life!
http://kesti16.com/Tressba/EatsAndTreats.html
Attention!
I have had over ONE MILLION visitors to this, My AOL Site in the last nine years.
The counter kept reverting back to zero, but I kept my own records each week.
I have now attached my two sites together under one counter starting at 2000.
This is March 15, 2007.
I hope I will not have any more trouble with counters. Sincerely, Kesti

Carp Fish